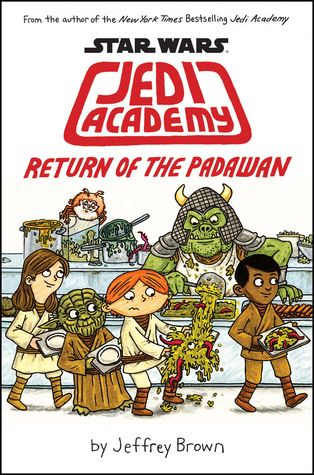 October 2014
Star Wars Jedi Academy Book 2: Return of the Padawan
Jeffrey Brown
New York Times best selling author Jeff Brown continues his unique spin on the grand space epic of the Star Wars universe, focusing in on a silly and smart slice-of-life portrait of a group of Jedi hopefuls. The hard-earned confidence from his initial year at Jedi Academy quickly fades as Roan Novachez enters his second year, which holds a whole new slew of challenges. Asides from how hard flight simulation is, his personal life is getting complicated: things have gotten weird between him and his best friend Pasha, and they get weirder when he goes for a sleepover to Pasha's home planet for the weekend and it feels like Pasha's dad hates him; and Roan has a growing crush on Gaiana, but is it just him, or is she avoiding him all of a sudden? And why are the jerks who used to bully him being really nice to him all of a sudden? Well, at least with teachers like Yoda, he's certain to figure out how to use the force and solve some of these problems.
Click here for a list of some of Jeffrey Brown's favorite books!
The Zero Degree Zombie Zone
Patrick Henry Bass
Baraki Katari Johnson is having a bad day—his best and only friend, the positive and encouraging Wardell signed him up for the class hall monitor election, and there's only one other candidate: golden boy Tariq Thomas, the kid everybody loves, who's been the class hall monitor, unchallenged, for years. Baraki doesn't even think most of the class knows he exists. Except for Keisha: Tariq's best friend and Baraki's new nemesis. She immediately begins her behind-the-teacher's-back campaign to trash talk Baraki until he steps out of the race. But he can't. Because that would mean doing something, and he has trouble taking a stand, either way – Baraki prefers to let things just pass and happen and resolve themselves.

That's not an option when while on the way to the bathroom he's yanked through a portal out of this dimension and into the Zero Degree Zombie Zone, where Ice Zombie Lord Zenon towers over Baraki and informs him he'd better get his ring back by the end of the day, or he'll have to unleash an army of zombies onto the school to take it back!

Baraki doesn't even know what this ring is, let alone how to get it and hand it over. But he's going to have to figure that out, and also maybe find a way to team up him and Wardell with Keisha and Tariq if they're going to have a chance at stopping Zenon from unleashing the ice zombie invasion on their school!

Journalist and sought after public speaker and expert on public culture and the arts Patrick Henry Bass's middle grade novel debut is a playful action-packed adventure filled with characters that feel straight from a real-life classroom.
Hello everybody! Just in time for Children's Book Week (which you can find more info about here, for events in your area) we're updating the site with new content, and you can expect a steady stream of it from now on. We've been working to come up with a new strategy, and this is the start of it. Today we've got a new Book of the Month and Book on the Pile, as well as the first of many exciting new personalized favorite reading lists from some of your favorite authors, starting out with Eliot Schrefer, acclaimed author of Endangered and Threatened!
And we're expanding our social media—we'd love it if you'd join us on facebook and twitter to keep up with our regular content updates, help spread the word about great books for guys, and maybe even share your favorites!
Posted by Jon on Tuesday, May 13, 2014